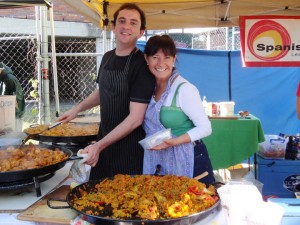 Patricia will be cooking her amazing paella at West End Markets in Davies Park. Huevos Rancheros for Breakfast!
Come and say 'hi' and pick up a delicious Breakfast to keep you going through the day.
Paella Pans for sale
Pick up from Davies Park market or 82 Hampstead Rd. Highgate Hill. Brisbane Ph. 0400638340
34 cm paella pan    Serve 6 people. $30
40 cm paella pan   Serve 9 people $45
42 cm paella pan    Serve 10 people $47
60 cm paella pan   Serve 19 people $ 85
70 cm paella pan.   Serve 25 people $110
Gas ring Cooker    $110
How to cook Paella?
Paella Recipe
Chicken Chorizo
1 onion, 3 garlics, 1/2 kg chicken, 1/2 Salamanca Chorizo (buy from Patricia, at Davies Park market- best Chorizo in town), 1 1/2 cup of Calasparra rice ($12 at Patricia's paella stall) 1 tub paella spices ($4 at Patricia's paella stall), 2 cups chicken stock, 1 cup water, 1/2 kg peas, 1 red capsicum, 1 medium Spanish onion, parsley, lemon. Salt and Pepper.
Fry 1 onion and later ad 3 garlics, ad salt and pepper (this call sofrito)
Fry your Chicken until ready cook, ad salt and pepper
ad sofrito, rice, and fill up with stock and water to the border of your paella pan
Let it cook slow and stir when the rice is starting to change colour
Ad more water if necessary – do not stir so much because is not risoto
When the rice is ready ad the peas, and Salamanca chorizo stir all around
ad the capsicum, the parsley, Spanish onions stir and leave a little bit for the final decoration
Decorate with the lemons.
Buen provecho – Paella deliciosa!